Gem Enhancement with David Bellamy
When precious or semi-precious minerals are mined from the earth, they usually have a general crystallographic shape. The stones are then transformed from their natural state into gems by means of various cutting and polishing techniques. The techniques  allow an optimum amount of light to be reflected in and out of the stone. The  gemstones are may then be further treated. Gemstone enhancement has existed for over 2000 years in one form or another. Certain procedures are applied to enhance or improve their appearance, and for their wear-ability.  The type of enhancement will depends on the characteristics of the stone and the desired effect.
David Bellamy will discuss the ways that gemstones are enhanced and thus more appealing to buyers:
Heating: e.g. rubies
Bleaching e.g. jade
Oiling : g. emeralds
Irradiating: e.g. topaz
Dyeing: e.g. pearls
Waxing e.g. lapis
Coating: g. colourless gems
Diffusion: Sapphire
Filling: g. diamonds
Lasering replacing inclusions
Bear in mind that all enhancement procedures are designed to make the appearance of the gems more appealing; it does not mean that certain practices are always ethical. Unfortunately misrepresentation, nondisclosure, and outright fraud does occur in the industry. The best advice for buyers is caveat emptor, let the buyer beware.
David Bellamy is a long term member of our club, and in addition to many contributions to our club, he is a frequent speaker at our monthly meetings.  He is currently a member of the club's Board of Director. David is an avid mineral and gem collector and is a science collector.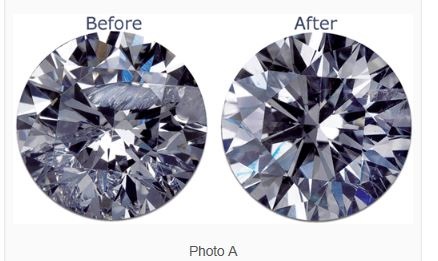 The  photo is by Geoffrey Dominy, Vancouver B.C.  and published the Jewellery Business Advisor
Directions to our Meetings
Where:Knox United Church Hall
2569 Midland Avenue
Toronto (Scarborough) M1S 1R3
north-east corner of Midland and Sheppard Avenue

We meet in the Church Hall which is the building north of KnoxUnitedChurch.
To get to the Hall: When driving north on Midland just past Sheppard, you will pass the church which is on the corner. Then keep you eye out for a small laneway that runs south of the Hall. This leads to the parking lot behind (east) of the Hall.
If you miss the laneway, keep going till you hit a small street on your right (east) called Rural Ave. Turn right (east) and look for a driveway into the Church Hall parking lot.
The door to the Hall is visible from the parking lot. The door is propped open for the meetings. Come in the door & walk up a half a flight of stair into the hall.

Meetings are help on the First Wednesday of the month

Our November meeting will be held at the Knox  United Church, beginning at 8:00 pm.

Although the meeting starts at 8 pm, try to get there earlier – the before meeting time is often just as much fun as the meeting.  Come as early as 7:30 pm because there is always something going on.
Before the meeting you can:

chat with other members & guest speakers
look at the Silent Auction Items displayed by members
see the special guest speaker displays
borrow a club library book from the cabinet
sign up for workshops, classes or other volunteer opportunities at the side table
help set up the chairs & pitch in with any other administrivia that people need a hand with

For information on our meetings  email us