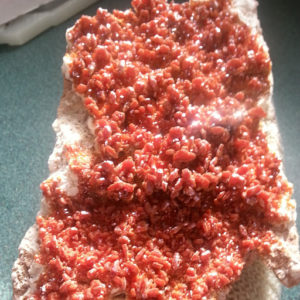 Our Grand Door Prize
Vanadinite , Morocco
The luck winner will be chosen late Sunday afternoon ,September 24.
You do not have to be present to win.
Feature Auction specimen: Amethyst stand-up from Uruguay
Auction begins at 3 pm Saturday Sept 23
Specimen is about 12″ tall and 8″ wide at the base
DEMONSTRATIONS:  Sandy Cline will be present for the weekend to talk to people about how to transform a block of rock into a masterpiece.
Watch him work, examine his display pieces ,maybe take a piece home!
What's new:  In the "Dance Studio" we will have a Learning Centre: new demonstrations,mini workshops,  short talks  and an ID clinic for minerals.
Stay tuned for details as   they are confirmed.  Here's a preview
These crystal models of minerals were constructed using a 3D printer. Crystal shape is what gives a mineralogist a clue as to its identity.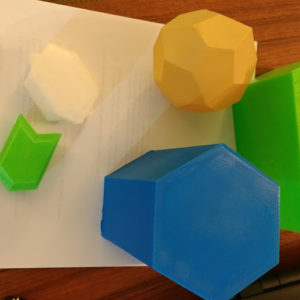 Can you name a mineral that belongs to each of these forms?      A real 3 D laser printer will be working in the Dance Studio!
Come ask Derek how it works.
If you often said while on a field trip ," I wish I had a handy-dandy small ID kit" ,this is your chance to buy a pocket size one ;
All the basics  fit into a pocket sized LASER PRINTED container !
More up-dates coming soon