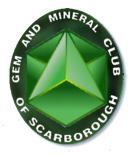 The club was founded in 1963 and has been an active and vibrant club for over 5 decades.
What we offer:
*  monthly meetings covering a variety of topics including: Geology , Mineralogy, Paleontology , Lapidary Arts, and  Jewellery making
* a newsleter "STRATA DATA" ,published 10 times per year
* hands- on workshops
*social events such as the annual Pot Luck held in June
*a super club GEM SHOW ,the 2nd weekend following Labour Day in September    NOTE:in 2017 dates will be September 23,24
* silent auction at each meeting
*friendship with other clubs
* club Field trips and  with the CCFMS
* an extensive library collection of topical books and some videos are available
for loan  to members one month at a time
* live auction usually at the  March meeting
MEETINGS:    Held the 1st Wednesday from September to June at 8 pm. at Know United Church ,at Midland Ave & Sheppard in Scarborough.   Presentations cover all aspects of the hobby and are given by knowledgeable  professionals as well as club members.
WORKSHOPS and CLASSES : Workshops are provided at a reasonable cost for GMCS club members. The variety of projects offered depends on the availability of qualified instructors and interest to participate by members. If there is something you would like to see offered, then ask. If you are able to teach something rock & mineral related then let us know. Information on upcoming Workshops & Classes is published in the monthly Newsletter sent to all members. All classes and workshops are open to club members and preregistration is required.  Most of them are between September and June and classes are usually held on Sundays.
1) Jewellery Making & Wire Work Classes  are held between September and June.
2) Lapidary Workshops are held for beginners when there is a group large enough to offer an Introductory Lapidary 101 Course. Upon successful completion of this Introductory Class, qualified members may sign up for additional General Interest Lapidary Workshops .