HERE'S A LIST OF OUR GREAT DEALERS

Helmut Keonig Gemmologist
Bring your unknown stones to Helmut  to identify. He also brings a wide range of testing equipment  used to distinguish various stones.  As well you will see jewellery featuring precious and semi precious stones for sale.
Nharo
Paul Wellhauser and company are are importers of a variety of Fair-Trade African products including decor, jewellery, soapstone carvings and more!. Traveling to distinct African villages and settlements  we continue to to strengthen our direct relationship with African craftspeople. He too has been to Africa on a buying trip. Come see what's new this year.
Kulu Trading
Kulu Trading was established in 1988 to showcase the eclectic collection the owner, Tim Noyes-Brown had begun personally selecting and directly importing from Southeast  Asia. Continuing to search for new and unique gifts of the Earth,he now travels extensively through Europe and Asia,as well as North and South America,refining and expanding collections all the time.Their unique pieces are hand crafted in Bali,Indonesia and the gemstones are sourced  from dealers all over the world. Always mindful of ethical trading ,they work directly with their silversmiths and stone suppliers, visiting their workshops and factor regularly.
STONE DESIGNS  Jewellery  and Sculpture
Colleen Walker combines genuine fun stones  in necklaces, bracelets and earrings with silver,gold,pewter and other interesting fine metals and beads. Rob Hudyma creates hard stone sculptures using rare colourful and unusual materials. What a husband and wife combination !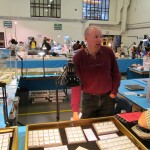 ALpine Gems
Alpine Gems is involved in most aspects of the coloured  gemstone trade from grading gem rough and faceting to gemstone exploration and small scale artisan mining. Alpine Gems operates a gemstone cutting shop in Kingston, Ontario,Canada and sells loose coloured gemstones by mail order,by appointment-only and of course at our show. owner,Brad Wilson specializes in gemstones of Canadian origin.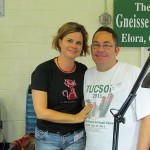 The Gneiss Guy
Size Matters: If you're looking for decorator items for your home and you like minerals and fossils,you should take a look at Ken Dardano's booth. Ken deals in ammonites,petrified wood,dessert roses,aragonite crystals, amethyst cathedrals and more. A lot of his merchandise is substantial but not his prices. The Gneiss Guy is a good place to look for value.
He's been to India collecting in the field. What an adventure that must have been! Come see what he brought back.
Soosai Prosper Designs
Soosai is a master faceter. He was one of the first to develop a new way to maximize the brilliance of gemstones. his concave faceting techniques allow him to create sparkling creations with cut gemstones. Soosai also provides jewellery casting services and creates one-of-a-kind jewellery.  He has trained Lapidary instructors in Nigeria and Madagascar.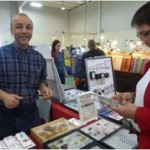 Jewellery Jamboree Gems
Reza Prizonia , F.C.G.M.A (Graduate Gemmologist)is a Canadian based Goldsmith. Strongly influenced by his Persian roots, Reza designs jewellery using gemstones that he has carefully selected while spelunking world wide. His delightful and delicate creations capture the natural qualities present in Super Seven crystals and a love of Persian turquoise.  Enjoying his livelihood with an engaging enthusiasm and charm, Reza has created Jewellery Jambore Gems as a family run business. Known to all of us a a generous and gentle person it is a delight to share his dream.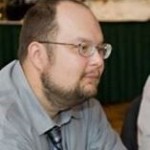 Element 51
Tim Jokela specializes in species minerals. He has a great array to unusual minerals.  If you can't find that rare mineral at Element 51,chances are you are not going to find it!
Opal Showcase
Wilf and Dorothy have fine Australian opals set in gold. Nearly all their opal cabochons are cut by Wilf. The Opal Showcase has high quality Australian black opals with their rainbow fire of colors too.
Chez Sdchmidt
Minerals, jewellery, beads, Chez Schmidt has it all. Gerry and Hughette has it all.  They have a wonderful eclectic display of superb lapidary gifts. Anyone who has a passion for rocks and wonderful minerals is certain to find something that pleases them.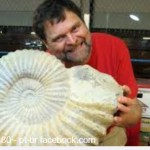 Mad River
Chris and Wendy Fouts will be at our show.  They have a fabulous display of unique rocks ,minerals and fossils. Chris is a professional and a life long mineral collector and rockhound.  For many years he organized mineral collecting trips in Bancroft,the mineral capitol of Canada.  With that amount of knowledge and experience at Mad river, you can be certain that your're getting the real deal.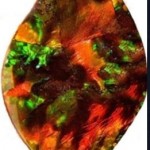 Lapis Gems
Lapis Gems was established in 1996. They  specialize in semi-precious stones, (such as Lapis Lazuli, Kunzite, Aquamarine etc.),fossils,beads  and jewellery. Their goal is to educate their clients and offer top quality gems and minerals to the Canadian market.  Lapis Gems  has a gemstone for every occasion: weddings,anniversaries,birthdays,healing,collecting and Gemology.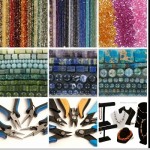 Canada Beading
Your dream. Our beads. We help! That sums up the focus of Canada Beading supply. The company had all the supplies you need to make up beautiful and unique jewellery plus useful information about techniques. In addition to gemstone beads and freashwater pearls ,they have precious metal findings,seed beads,Preciose crystals,stringing supplies, tools,books and lots more. Canada Beading is a family-owned business established in 1984 in Ottawa,Canada.
Kawartha Minerals
Bob Beckette first joined the show in 2016 ,bringing a selection of Canadian & worldwide custon made sterling silver jewellery. Also check our the rewards of this years' trip to the Yukon for the newest in Canadian minerals..
Earthy Girl Designs
Coming from a family background in mining, Amanda started collecting rocks and minerals at the tender age of seven. Her hobby eventually into Earthy Girl Designs, established 20 years ago,which encompasses a wide range of gemstones and vintage beads,hand made jewellery and Native American jewellery in sterling silver. Currently her bead collection included American and Chinese turquoise, kunzite, morganite, chrome diopside and carved beads. Always looking for unusual or different, Amanda's assortment is continuously evolving. Amanda is a member of the Gem & Mineral Club of Scarborough,Toronto Bead Society,Craft Ontario and the former Bead Museum in Phoenix Arizona.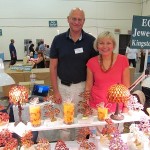 The Amber Room
Since 1987, the Amber Room has specialized in beautiful and unique pieces of amber jewellery and and gifts imported from Gdansk, Poland. We are located in Kingston,Ontario. Our retail location offers an exquisite collection of brooches,rings,bracelets,earrings,pendants and necklaces. All the best quality Baltic amber set in sterling silver by European craftsmen. "Our unique gifts include: amber lamps and candles as well as decorative trees made of amber and other gemstones. also we have amber with insect inclusions"
Superior Gems and Jewellery
Ed Checko has a superior eye for distinctive stones and has incorporated sterling silver,cabs and wire worked stones into his unique designs with complimentary beaded necklaces.
Come and see his unique selection.
Sinocan Superior Minerals
Mark Mach of Sinocan Superior Minerals is a mineral enthusiast with a passion for geology and science. Mark travels to far off locations to bring you outstanding minerals at very reasonable prices. Mark's specialty is minerals from China. So if fabulous fluorites,superior stibnites, tremendous tourmalines and other fine minerals from China are what you are looking for, Sinocan Superior's booth in Scarborough in mid September is the place to be. Mark's wife is creating a line of jewellery featuring pearls.
Cambrian Gemcraft *
Kathy brings a selection of Stones and minerals, particularly amethyst from Ontario to several shows in southern Ontario. Also look at the variety of minerals, fossils and tumbled stones
                                                                                                          Fossile Plus
This Montreal dealer brings a wide selection of real fossils ,a selection of display stands and metaphysical items